History of the Covington Lodge
The Beginning and the Building
The Covington Elks Lodge was chartered in July 1950.  The Charter Exalter Ruler was W.C. (Bill) Ivey.
The first Lodge home was in the renovated bowling alley on Rainbow Lake in Covington.  The Lodge grew in membership and prospered after its institution.
In 1972, this building burned down and a new lodge was rebuilt on the same site.  It was opened in December 1973.
In 1977, the Lodge was beginning to incur financial problems and in January 1980, the Lodge lost its building and property to those who held the mortgage.
From early 1980 to 1991, the Lodge continued to operate in modest rental quarters in both Rockdale and Newton counties.  The Lodge survived through these times due to a very dedicated group of members and their leader who worked tirelessly to increase membership and, once again, become financially solvent.  They were merciful in their endeavor.  In 1990, six acres of property was bought at 135 Crowell Road.
A new lodge building was built on this property and the grand opening was held in June 1991.  Members of the Lodge and their ladies were major contributors to the building effort.  As a result, only a modest mortgage was necessary.  In 1996, this mortgage was paid off and the Lodge is free and clear of debt.
The new building has allowed the Lodge to escalate the many Elk programs as well as adopt other local programs.  The Lodge continues to gain in membership and has done so every year since 1984.  The current membership is near 350.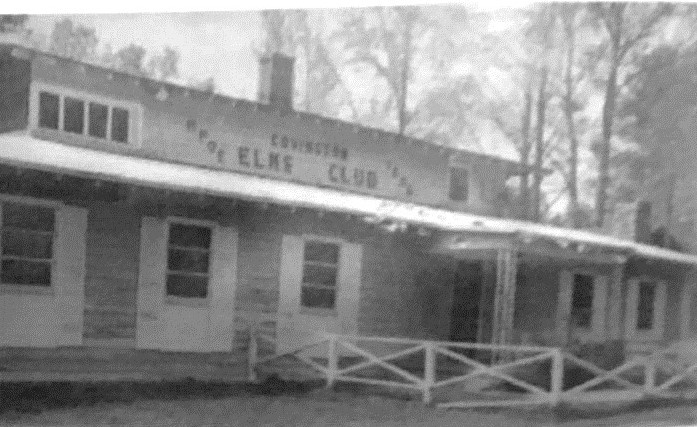 Aidmore Children's Center
Covington Lodge and Auxiliary have had major supporters – both monetarily and with their time – of the state Elks major project, the Elks Aidmore Children's Center located in Conyers.  Each year the Lodge is presented awards at the Elks State Convention for their generous contribution throughout the year.
The children's center is a residential facility serving an average of 50 female adolescents with unique needs.  These children are from all over the state of Georgia.  The facility has recently achieved accreditation from the Council On Accreditation Of Services For Families And Children, Inc. This is the highest award a facility such as Aidmore can achieve.
The Aidmore campus activities now include a high and low element ropes course for team building activities as well as campground facilities designed to serve groups of 150 people.
Our Community
One of the goals of an Elks Lodge is to enhance the community in which it resides.  The Covington Lodge has been a leader in community programs such as:
Providing scholarships for deserving seniors in the local high schools
Providing drug awareness information to schools, civic clubs, law enforcement agencies, and other organizations who desire it
Providing support for local law enforcement swat team
Providing boys & girls 8-13yrs of age an opportunity to participate in the annual basketball Hoop Shoot free throw contest where winners can compete for a full scholarship to a college of their choice
Providing comfort for veterans in local nursing homes with visits and gifts and by supporting legislation to prevent desecration of our nation's flag.